Hello MHS Alumni!
We are starting a new tradition of having various class members write a message for our newsletter that goes out 3 or 4 times a year. The first guest writer is Eric Matheson. You can view Eric's very detailed profile along with personal photos on our MHS site. Direct Link Here (You must logon to view the page).
:::::::::::::::::::::::::::::::::::::::::::::::::::::::::::::::::::::::::::::::::::::::::::::::::::::::::::::::::::::::::::::::::::::::::::::::::::::::::::::::::::::::::::::::::::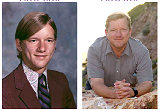 I believe Darrel LeSueur, our class president, echoed the sentiments many of us were feeling at our 30 year class reunion. To paraphrase Darrel, "I wish I had gotten to know more of you." Remarkably, it's not too late. Our web site in general and "The Chat Box" in particular has helped to facilitate exactly that – classmates who perhaps never associated with each other before are getting to know each other now. This is true in the sense of "chatting" between classmates online, but it's also true in the literal sense that some classmates are getting together to socialize in person.

Carlin McCormick can take credit for being the first person to use the Chat Box to organize a get-together of MHS alumni in November 2007. Since that time, there have been multiple social gatherings of classmates organized via the Chat Box. These have included visits to local restaurants, hikes in the desert, and gatherings at classmates' homes. In every case that I'm aware of, these gatherings were open to any of our classmates. In no case that I'm aware of was there any attempt to be cliquish or selective in terms of which classmates were invited.

Of course, these get-togethers are easier for those who live in the Phoenix-Mesa area. But if you live out of state, all you need to do is get on the Chat Box and make it known that you will be in the area. The chances are excellent that some number of classmates will be happy to organize a get-together to coincide with your visit. That's happened more than once already.
In the weeks leading up to the 30 year reunion, there were a great many of you that were anxiously logging on to the Chat Box (Those were heady days when messages could fly faster than anyone could keep up). I understand that the pre-reunion excitement has passed, but there is no reason not to check in regularly (I'd suggest at least once or twice a month for everybody). Everybody who drops in is welcome and I can almost guarantee that everyone who posts anything eventually receives a greeting or acknowledgement from someone else. Keep in mind, that it works best if you use your real name.

Thanks to whomever had the idea to set up the MesaHigh1976.com web site and thanks to everyone that has participated in it, especially Nancy Miller Rector, our webmaster.
Sincerely,

Eric Matheson
MHS 1976
Get-Together's, Hikes and More!

The chat box has spawned all kinds of classmate get together's! Hikes, restaurant meals, BBQ's... visit the MHS Gallery for Photos... we add more all the time!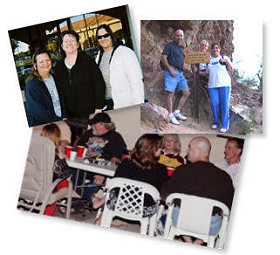 Rosa's Mexican Grill Feb. 08
Hike Up Usery Park April 08
Dinner at Wes Anderson's April 08

Save Our Train!

One of our classmates, Rene' Sallee/Woods is heading up a committee to save the Pioneer Park train which is in danger of being removed from the park. She has a web site with all the details for those who might be interested in helping out with the cause. You can contact her there, make donations, view photos and news clips, sign petition etc.
CLICK HERE OR ON PHOTO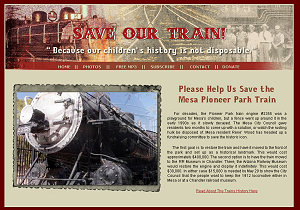 NOTE: MHS 1976 is not affiliated with this project.
Keep Your Email Up To Date Please!

This is very important if you want to receive news about upcoming reunions and other announcements regarding our class. If your email changes, please change it on your site profile!
35 Year Reunion in 2011
In the spring of 2011 we will be having a 35 year reunion. It will be very informal and very little cost.
DVD Still Available

If you haven't ordered our reunion DVD yet you can still do so. It's only $12 including shipping! Details and a clip are on the site.
Missing Classmates

On the "Our Class" page of our site you can see who is "missing". If you have any info on anyone please email us!